( evino ) Account // Redesign
︎︎︎ About the project:
To understand more about our user's needs and habits, we did a Research to create the
Map Journey
and create the Personas, with that project we discoreved that one of the pain points of the user was the Account page.
With the Product Manager and the Tech Lead, we made a kick-off to understand more how the current Accoung page can change, according to the user's needs.
︎︎︎ My role:
Product Design
︎︎︎ The challenge:
"How can we improve our Account page?
And, with that, improve our services in general?"

︎︎︎ Segment:
Wine

︎︎︎ Tools:
Figma, Miro, Lookback

︎︎︎ Year:
2022
︎︎︎ Objectives:
Improve the Account page to delivery the best experience
to the user's when talking about buying wines online.



︎︎︎ The process:
1. Kick-off
2. Analysis of the Map Journey
3. Wireframe
4. High-fidelity Prototype (web-desk and mobile, android & iOS)
5. User Testing
6. Hand-off
︎︎︎ Methodology:
Double Diamond
︎︎︎ Current scenario:
Orders in progress, personal details, delivery address and payment information on the same page, it's confusing
The "My Wines" page only includes wines that the user has already purchased, it doesn't work as a "Favorites/Wishlist"
︎︎︎ High-fidelity prototype:
Desktop: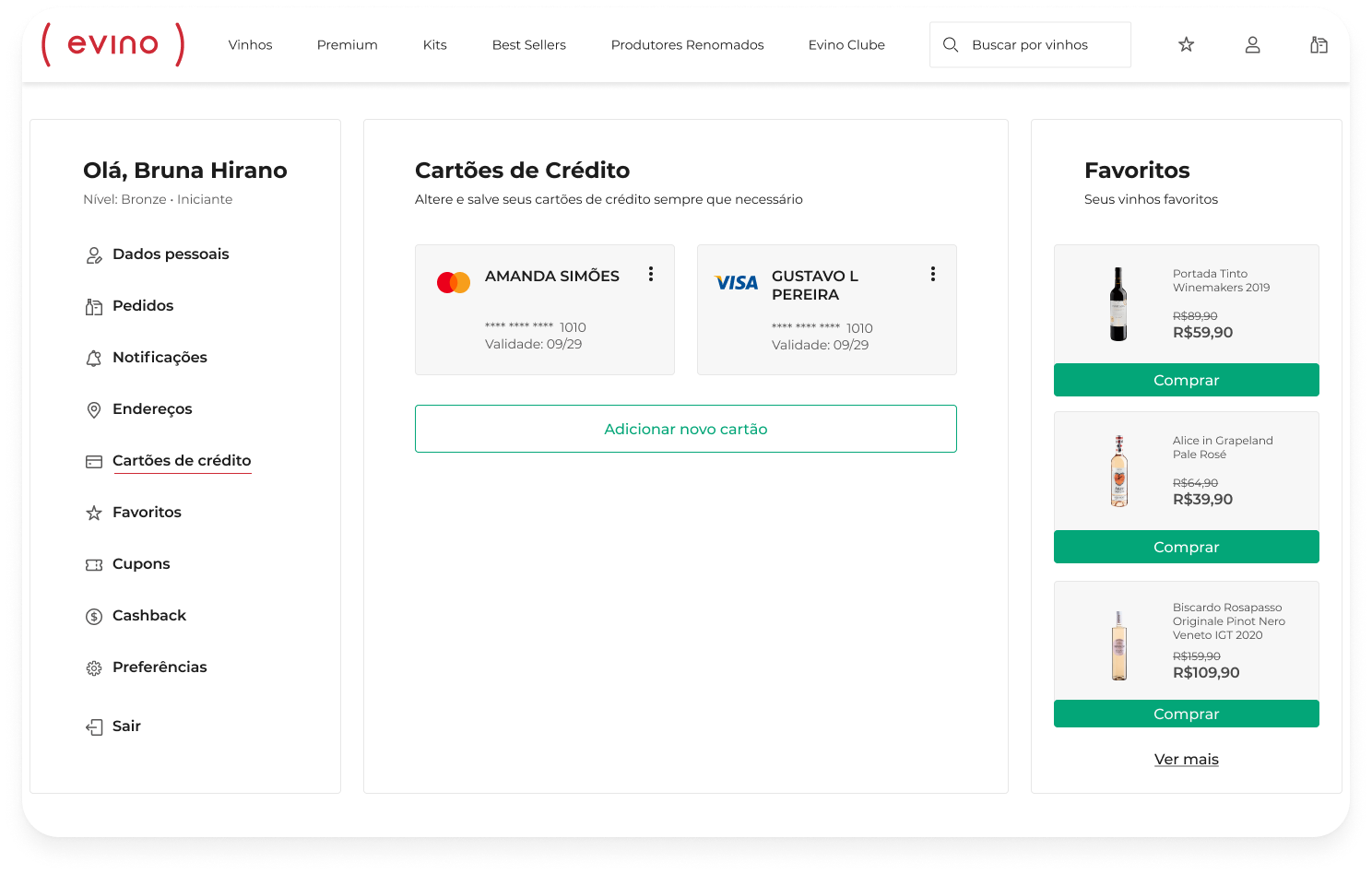 ︎︎︎ Mobile:
︎︎︎ User Testing:
I interviewed 10 users for the usability test. 8 of them said that the redesign was much more intuitive and organized than the current scenario. 5 of them said that the new interface makes them want to spend more time on the platform.
︎︎︎ Hand-off:
The project is currently with the development team. It is scheduled to be released in the next few months.
november @ 2021
________________